Early December, Warm Weather…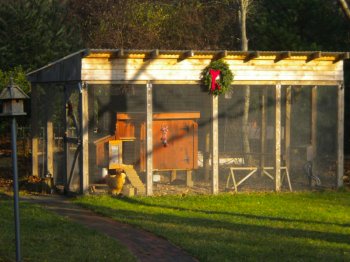 It's early December and the holiday season has begun. The temperature here on Cape Cod has been unseasonable warm and I'm thrilled with it. It's the perfect weather to prepare the coop for the winter. The henhouse has been cleaned, new shavings are down, fresh straw in the nest boxes and the water heater is in place. The yard clean up is done too. The wreaths are hung, yes, even on the coop.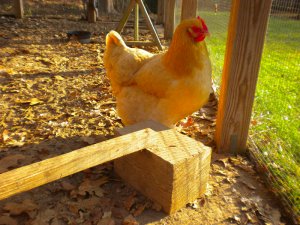 The hens are past their molt and back to looking their happy healthy selves. Their combs are red again which is an indication of their good health, but still no eggs. Typically, during winter with the days being shorter egg production declines. Sunlight (and/or artificial light) are crucial in the egg laying process. The girls will be four years old in the spring and so I don't expect eggs like we collected when they were younger. I do miss the daily collection of fresh eggs.
And so this is when I toy with the idea of adding another small coop and flock to the garden. I wouldn't add any birds to the existing flock because I don't want to disrupt the harmony. Crowding causes friction and I don't want to bring on any undo drama or stress to them or myself. And then there is DH who keeps it real and balanced. He'll be the deciding factor. After all, he's the back-up hen keeper and handyman who would build the coop.
So for now, I enjoy the warm weather and will go visit my girls!