December 14th, 2013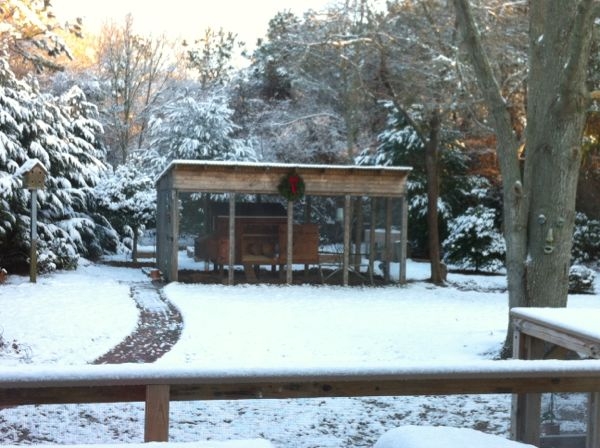 I never get tired of the view from my kitchen window. I love looking out there and seeing 'live action'. This well built coop was built for me by my husband and brother in-law. It is totally surrounded by 1/4″ galvanized hardware cloth, including the inside ground below the sand. When I researched having backyard chickens, I did a lot of fact finding. I wanted to be successful with my livestock and eliminate the problems and difficulties. Part of my research was going on a coop tour (fundraiser) in my town and surrounding towns, sponsored by the local Backyard Chicken Keepers Club. What I often saw was dilapitated housing and unkept conditions. In talking to the owners they admitted of troubles that I was going to avoid; rodents, predator attacks and illnesses. Using common sense and being pro active is my method of being successful and enjoying my backyard flock.
The henhouse I choose was also thoroughly researched and has worked out very well for my covey. Built by the Amish it is air tight, but also has good ventilation and is roomy enough for me to easily clean. Advertised as housing 6 to 8 hens is misleading. It would never house that many chickens comfortably. I kept my flock to four (now down to three). There are three nest boxes, a roost and plenty of room for feeder and waterer. And because it was new construction and not built from scrap wood laying around or an existing old structure there have been no signs of mites or lice. On a cold and windy day (as pictured above), I leave the large door open and the hens like to sit inside out of the elements, yet able to watch the outside world.
Another feature that I love about my set up is the coop cam. My brother-in-law installed this for my viewing pleasure while I'm in the house and/or out and about.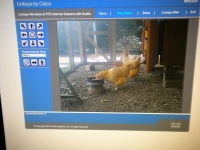 The hens are five years old now and I still enjoy the daily routine of their care. They are healthy and happy and a delight for me and my family. If you're considering it, having a manageable backyard chicken flock is a hobby I would recommend.